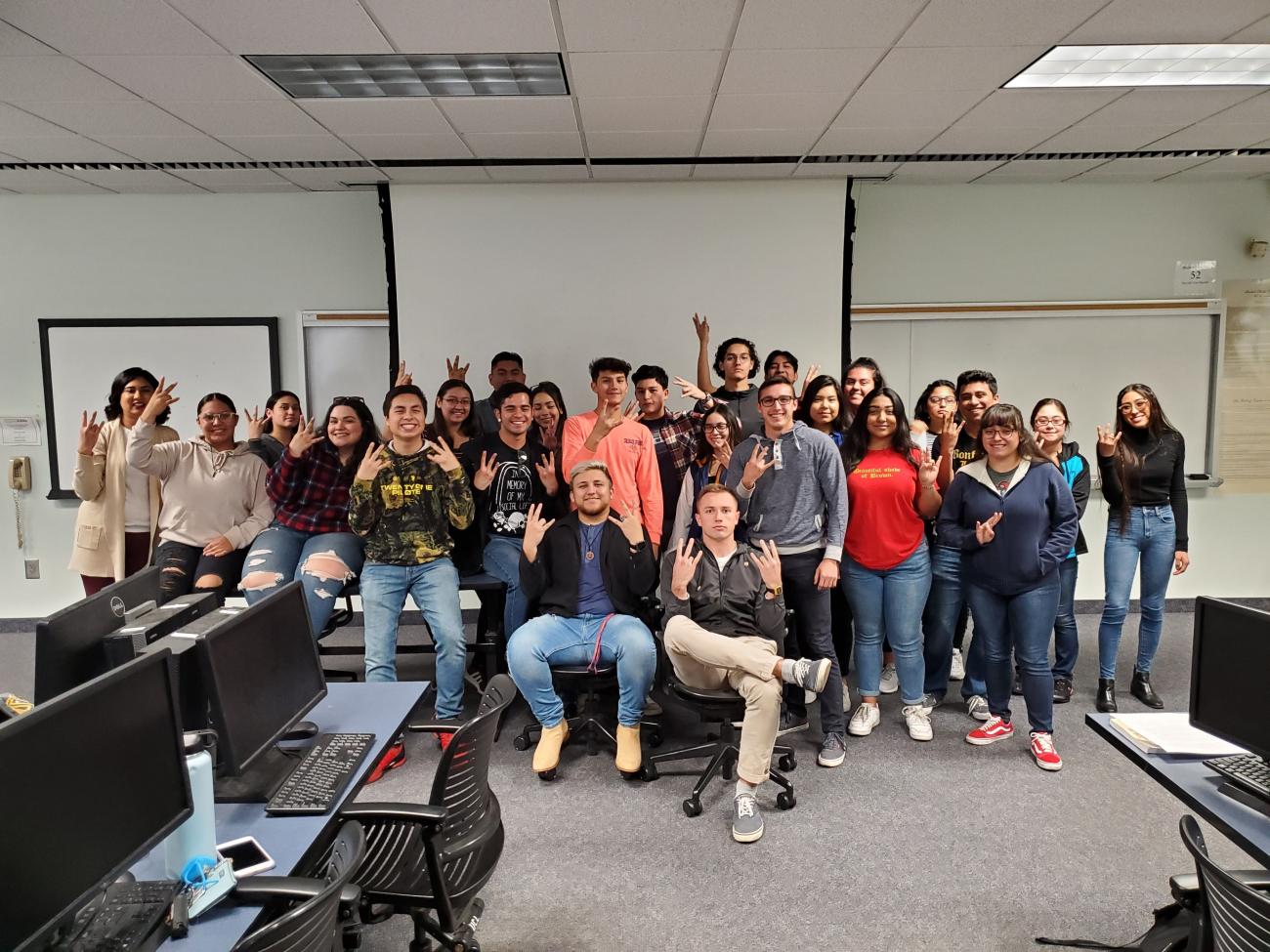 The Spanish Heritage track
The Spanish Heritage track is specially designed for students who have primarily learned their Spanish either at home or living within a Spanish-speaking community.
Spanish Heritage Course at ASU
This track has been created
to help bilingual students expand their Spanish skills and knowledge

of their cultural heritage in a rich, confidence-building environment.
Learn more about Spanish Heritage track
How are these courses different than the regular Spanish?
Heritage learners' needs are different from traditional second language learners, whom have not been in constant contact with Spanish while growing up. We offer these separate courses as recognition of heritage learners' unique abilities and needs within our classrooms, and as a way to expand our Spanish-speaking community at Arizona State University.
How are these courses different than the regular Spanish as second language courses?
Classes focus on cultural heritage.

All levels of Spanish have a place in the program, from beginning to advanced.

Students share similar language and cultural experiences that are incorporated into the course materials.
Spanish Heritage learners will be able to:
Our mission is to promote Spanish language development and maintenance in the United States. We believe that every heritage student has rich linguistic resources and cultural competencies that are welcomed and nourished in the classroom context. In our program we aim to:
Provide students with a 'home away from home' by building community with peers.
Provide an inclusive and nurturing environment for our students that respects their diversity.
Broaden their understanding of their personal histories by learning about the cultural experiences of U.S. Latinxs.
Instill a sense of pride in their cultural heritage.
Boost their sense of self-confidence.
Support our students to succeed in their academic journey.
Expand their fluency in their Spanish and bilingual skills.
Empower students to use Spanish confidently in family and community settings as well as in professional settings.
Spread the value and recognition of bilingualism and U.S. Spanish in Arizona.
Empower students with a critical understanding of the sociopolitical dynamics of heritage language maintenance in the United States.
How to sign up?
To find out what course is most appropriate for you, please take the placement exam. If you have questions or concerns, please contact the SHL program director, Dr. Sara Beaudrie or Melissa Negron, SHL program coordinator
Signing up for Heritage classes. Courses in the program include:
These courses count towards your second language requirement, Spanish minor and Spanish major.
Shannon Zellner
I have loved being a part of the Spanish Heritage Program through the School of International Letters and Cultures at Arizona State University! In the program, I have gained confidence in my ability to speak, write, and read Spanish at a collegiate level through the excellent program.

The entire staff at the School of International Letters and Cultures have been enthusiastic and want all their students to succeed and excel at any level. I feel supported and cared for by every professor in the program and I have grown my academic network with the professors, and this will translate very well in my future academic journey.

The compassion I have encountered with all my teachers is unparalleled. I cannot recommend the Spanish Heritage Program enough. ¡Tengo éxito, soy fuerte, soy latina y estoy orgullosa!
Juan Pablo Casillas
I've had an amazing experience with all my Spanish classes at ASU, especially with the Spanish Heritage Program.

This was an amazing opportunity to find out about the differences and similarities between Hispanics and Latinos and their communities, explaining how they all contribute to the world, and specifically to the United States. 

I believe that it is important to know as Hispanics, Latinos or Spanish speakers where we come from, where we are, and where we're going. This program allowed me to find out more about each community of Latinos and Hispanics, and how we all have had our own birth, development, and success as minorities including all the challenges and all of the victories that create the history and culture of this country. 
Tasia Christopher
I would recommend SPA 203 to others because it is very different from typical Spanish classes I have taken before. My experience in Spanish classes is usually just receiving word definitions and verbs and just HOW to speak the language. You learn this in SPA 203 as well as other things applicable to Spanish. This includes the topic of your own identity, common struggles with bilingualism, learning about others' experiences, and more. This class gives you a chance to immerse yourself in other people's lives and struggles as well as your own, while at the same time improving your Spanish. Spanish 203 has helped me learn more about my heritage and makes me feel less alone being a biracial student. It's finally a Spanish class that I'm surrounded by people just like me!
Jonathan Chavez
Taking Spanish 203 has been such an amazing opportunity. I have gained so much knowledge and I am glad to say that I have gained new life experiences. Taking this class has allowed me to grow and prosper in my native language. When I first entered this class, I felt no judgment from other students. It was such an amazing feeling to know that there are students who are just like you. In my class, some students were able to speak the language fluently and others didn't know much, but we were all supportive of one another. This class was definitely one of the highlights of my semester. The impact this class has had on me is everlasting.
Eventos
Check out some of the events are happening in the Spanish Heritage Language Program; an abundance of language, theater, music, art, sports and literary y mucho más!